Plinko
Plinko is a popular game of chance that has transitioned from television game shows to online casinos. In this article, we'll delve deeper into the risk levels, ranks, prizes, and return rates associated with Plinko, focusing on gameplay in online casinos in New Zealand.
Plinko is a game where players drop a puck onto a vertical board filled with pegs. The puck bounces off the pegs, and its path is unpredictable. The final destination of the puck determines the prize a player wins. Plinko has gained popularity in online casinos due to its simplicity, exciting gameplay, and potential for impressive rewards.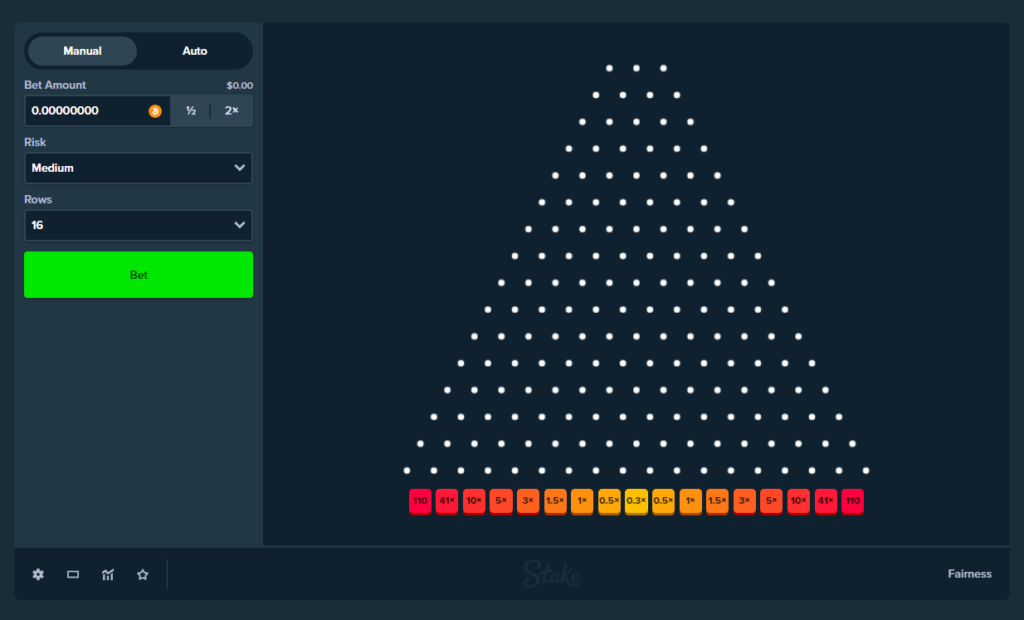 Understanding the Plinko Board
The Plinko board is the heart of the game, consisting of a vertical grid of pegs and slots at the bottom. To better understand the Plinko board, let's break down its components:
Pegs: The pegs are arranged in a triangular formation, causing the Plinko puck to bounce randomly as it descends the board.
Columns: The board is divided into several columns, each leading to a slot at the bottom.
Slots: Each slot is assigned a specific point value or cash prize, which varies depending on the Plinko game variation.
Risk Levels in Plinko
Low Risk
At a low risk level, only the middle prize in the pyramid results in a losing outcome. This means that you have a higher chance of winning, but the chances of winning larger amounts are reduced. With 8 lines, the outermost outcome pays out 5.6x the bet.
Medium Risk
When playing at a medium risk level, the middle three outcomes result in a loss. This increases the chances of losing, but the outermost prizes offer a 13x multiplier on 8 lines, giving players a greater opportunity to win bigger payouts.
High Risk
At a high risk level, the reward for middle outcomes may decrease, but as you move further away from the edges, the reward multiplier increases. This approach is recommended for players who are willing to take more risks to win bigger payouts.
Ranks in Plinko
Customizing the Number of Lines
The rank or level in Plinko can be customized by changing the number of lines from 8 to 16. With the 8-row setting, the pegs are arranged in 8 rows, and there are 9 possible final results. As the number of rows increases, the number of rewards also increases, but the likelihood of winning the top prize decreases.
Impact on Multipliers and Prizes
Playing with more lines can result in higher multipliers. However, if you choose to play with 16 lines, the chances of winning the highest prize are slim, but the multiplier for hitting it is a massive 1000x. By reducing the number of lines, the probability of winning is lower, but you can still score decent payouts by adjusting the risk level.
Plinko Prizes
Low Risk Prizes
When playing with low risk and 8 lines, prizes are set at 5.6x, 2.1x, 1.1x, 1x, and 0.5x, ensuring a win of at least the bet amount, except for the middle result. Increasing the rows to 10 at low risk adds two more results with prizes of 8.9x, 3x, 1.4x, 1.1x, 1x, and 0.5x, with the prizes on either side of the middle result remaining unchanged.
High Risk Prizes
As you increase the risk level, the multiplier for the highest rewards also increases. For instance, playing with 16 lines at high risk can earn you a maximum multiplier of 1000x. However, in such a case, you need to consider that the prize of all the middle rows is also counted, and the number of losing outcomes increases.
Plinko RTP
Plinko offers an impressive theoretical return rate of 99%, making it a highly profitable game compared to most online casino games. It has one of the highest winning percentages and outperforms many slot games, with only a few table games able to match its payout rate. The game's volatility can be adjusted to your liking, giving you the freedom to decide whether you prefer low or high risk bets and how many lines you want to play with. And if you're feeling lucky and looking to hit a huge jackpot, you can aim for the 1000x multiplier by playing with 16 lines and a high-risk level.
Plinko Strategy and Tips
While Plinko is primarily a game of chance, there are a few strategies and tips that can enhance your gaming experience:
Choose the right casino: Look for a reputable online casino that offers a fair and secure gaming environment, along with a variety of Plinko games and attractive bonuses.
Understand game mechanics: Familiarize yourself with the Plinko board, puck, and drop zone, and experiment with different drop points to better understand the puck's movement.
Bankroll management: Set a budget for your Plinko gaming sessions, and stick to it. This will help you avoid overspending and extend your gameplay.
Take breaks: Playing for extended periods can lead to fatigue, which may affect your decision-making. Taking regular breaks can help you stay focused and maintain a clear mind.
Experiment with variations: Try out different Plinko games to find the ones that suit your preferences and offer the best entertainment value.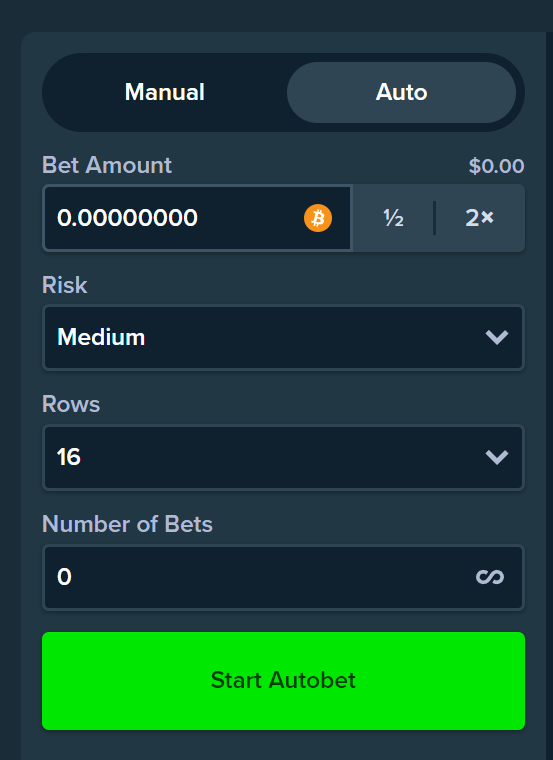 Conclusion
Plinko is an engaging game of chance that has successfully transitioned from television game shows to the world of online casinos. With its simple mechanics, captivating gameplay, and the potential for exciting rewards, it's no wonder that Plinko continues to grow in popularity among online casino players in New Zealand.
By understanding the various risk levels, ranks, and prizes associated with Plinko, along with the impressive RTP rate, you can enhance your Plinko gaming experience and increase your chances of winning. So, what are you waiting for? Head to your favorite online casino, try your hand at Plinko, and experience the thrill of watching the puck bounce its way toward potential rewards!
Is playing Plinko online legal in New Zealand?
Yes, it's legal for New Zealand residents to play Plinko and other online casino games, as long as the casino is based outside of the country.
Can I play Plinko for free?
Some online casinos offer free or demo versions of Plinko, allowing you to practice and familiarize yourself with the game before wagering real money.
Do online casinos offer Plinko-specific bonuses?
Yes, many online casinos provide promotions and bonuses specifically for Plinko players, such as deposit match bonuses, free spins, and cashback offers.
Are Plinko games fair and random?
Reputable online casinos use random number generators (RNGs) to ensure the fairness and randomness of their Plinko games. Always choose a licensed and regulated casino for a fair gaming experience.
Can I play Plinko on my mobile device?
Yes, many online casinos have optimized their Plinko games for mobile play, allowing you to enjoy the game on smartphones and tablets without sacrificing quality or user experience.
What is the RTP rate for Plinko games?
Plinko games generally have an impressive theoretical RTP rate of 99%, making them highly profitable compared to most online casino games.